Welcome to Collinsville Fence Company
Collinsville Fence Company is the #1 Fence Contractor in Collinsville, IL for a reason. We provide the absolute best in service and quality for fence installation and fence repair. Whether you're looking for a new vinyl fence, wooden privacy fence, cedar fences, chain link fences, aluminum fencing, security fences, split rail fencing, picket fences, swimming pool fencing or anything else fencing related, we are here to assist you!
Get a Free Quote:
618-228-3090
Vinyl Fencing Sales & Installation
Collinsville Fence Company is your hometown, local fence contractor. Whether you need a new fence for your home or business, Collinsville Fence Company is on-call and ready to provide you with the very best fencing service and fence installation available.
Aluminum Fences Installed
At Collinsville Fence Company we understand you have a choice when it comes to choosing a fence contractor in Collinsville. That's why we strive to provide every customer we serve with the very best we have to offer in service from start to finish. We use high quality fencing materials from reputable fence manufacturers, and our fence installers have decades of experience in the fence industry, and operate according to the highest standards of quality above and beyond what you would expect in your average fence contractor.
Full Line of Fencing Services in Illinois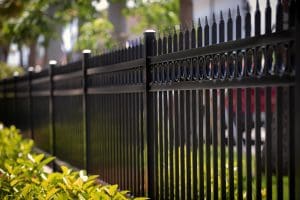 Hire Collinsville Fence Company Today!
Collinsville Fence Company is standing by to take care of all your fencing needs! Whether you need new fence installation, fence repair, or fencing replacement we are here to serve you.
Our fence contractors are experienced, hardworking professionals. We operate according to rigorous standards of quality, safety, and fence installations are completed according to all local codes and ordinances.
For Fence Installation or Fence Repair in or around Collinsville, IL please call 618-228-3090 or fill out the Free Quote form on this website.