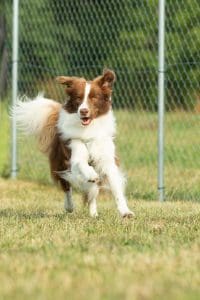 Custom Dog Pens & Dog Run Fence Contractor
At Collinsville Fence Company, we believe our four-legged friends deserve all the security and freedom to exercise they need. We know you love your pets, and many of you treat your pet like another member of your family because that's exactly how you feel about them. If you need an enclosure for your pet, check out our customer dog run fencing and the dog pen builds available through Collinsville Fence Company.
A dog run fence will give your pets the freedom to enjoy the outdoors without your having to worry about them getting out and getting hurt. Call 618-228-3090
Dog Run Fencing Installed
Collinsville Fence Company can build your dog run fence out of any of our fencing materials. Would you like something your pets and others can see through? Check out our Aluminum Fencing, Vinyl Picket, Wood Picket, or Chain Link fencing options. Would you like a privacy fence to keep your pets safe and free from prying eyes? Check out our vinyl privacy fence or cedar privacy fencing options.
We would love to help you keep your pets safe, and are happy to assist in any way we can to ensure you have all the safety and security you need for your pets.
Give us a call today for professional fencing service in Collinsville, Pontoon Beach, Troy, Maryville, Fairview Heights, Caseyville and the surrounding areas in Illinois.
Contact 618-228-3090