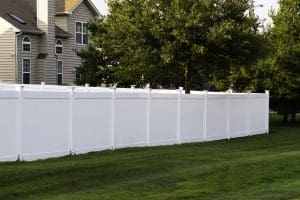 #1 Vinyl Fencing Sales & Installation in Illinois
Collinsville Fence Company is the #1 vinyl fencing dealer and installer in the Metro East! We offer the absolute highest quality in vinyl fencing available, and our highly experienced installers will make sure your vinyl fence is built right and to last a lifetime.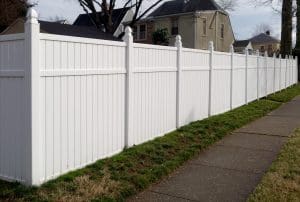 Pros & Cons of Vinyl Fencing
There are several advantages of purchasing a vinyl fence.
Vinyl fencing requires virtually no maintenance save the occasional power washing.
Unlike a traditional wooden privacy fence, vinyl fencing will never need to be stained or sealed.
Vinyl fences are resistant to the harmful affects of UV rays.
Pests and insects are not attracted to vinyl fencing.
Vinyl fences maintain their color very well.
Vinyl fences will last up to 50 years.
While the list of advantages of vinyl fencing are significant, there are some cons to consider that may cause you to consider buying an aluminum or cedar fence.
The cons of vinyl privacy fencing are ...
Vinyl fencing material is a premium fencing product that is typically more expensive than other materials.
Vinyl fencing cannot be stained another color. What you see is what you get.
Vinyl fencing is strong, but it is not as strong as a traditional wooden fencing.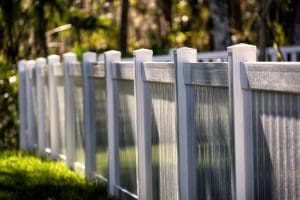 Is Vinyl Fencing Right for You?
Customers seeking to decide whether to purchase a white vinyl fence or some other kind of fencing material should consider what their goals are for their new fence. If you'd like an option for a new fence that will keep you from every having to worry about having another fence installed, we highly recommend a new vinyl fence. Vinyl fencing is a very popular option in Collinsville, Glen Carbon, Maryville, Caseyville and the surrounding areas in Madison County and St. Clair County Illinois.
Collinsville Fence Company would be happy to provide you with a free quote for a new vinyl fence today. Just give us a call at 618-228-3090
You can also fill out the quote form on this website and one of our friendly fencing contractors will get in touch with you soon.
Thank you for your business!